November 6, 2020
Municipalities for MPAs: Pintuyan, Southern Leyte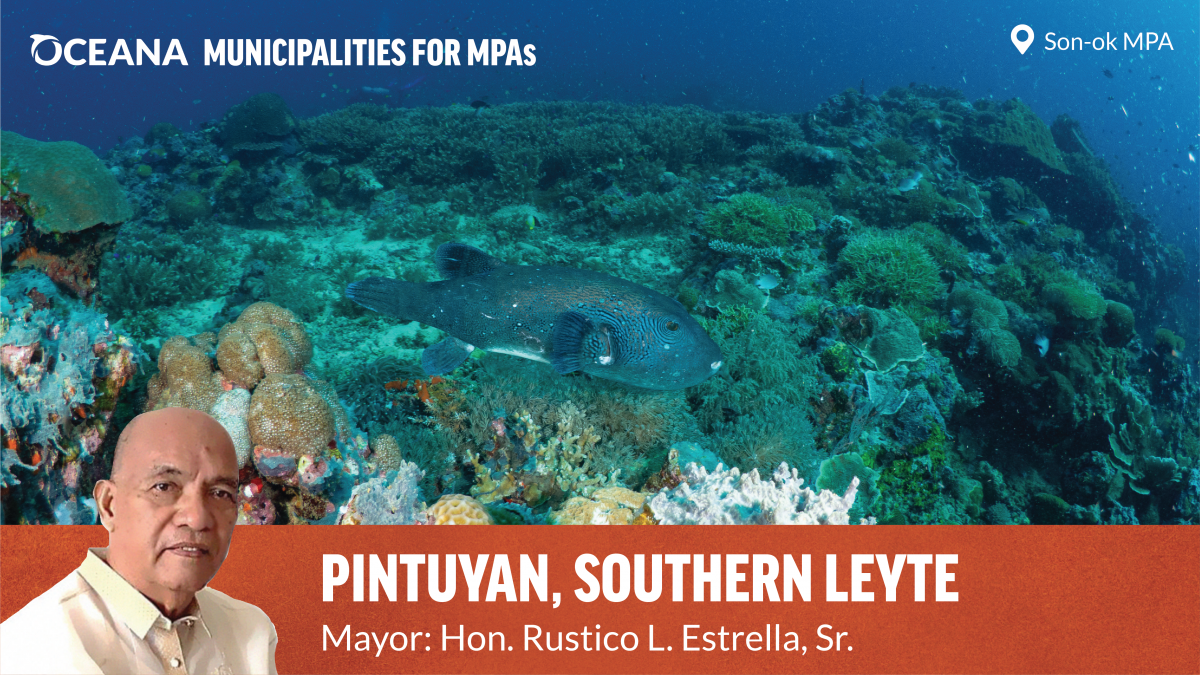 Hon. Rustico Estrella Sr., Mayor of Pintuyan, Southern Leyte reveals their municipality's initiatives to strengthen their MPAs.
Can you tell us about the Marine Protected Areas (MPAs) in Pintuyan? What can be found in these MPAs?
Pintuyan has six MPAs and two marine reserves. These are situated in the following coastal barangays, namely:
Nueva Estrella Norte – Nueva Estrella Norte MPA/MR (total area: MPA 8.80 + MR 5.80 = 14 hectares)
In between Dan-an and Catbawan – Dan-an and Catbawan MPA (total area = 5.5 hectares)
Manglit – Manglit MPA (total area = 9 hectares)
Son-ok – Son-ok MPA (total area = 28 hectares)
Balong-Balong – Balong-Balong MPA (total area = 2.50 hectares)
Cogon – Cogon MPA (ongoing project)
Caubang – Caubang Marine Reserve (total area = 10.878 hectares)
Dominant species of fish found in the sanctuaries are parrotfish, damselfish, fusilier, rabbitfish, scads, surgeonfish, rudderfish, butterfly fish and other pelagic fish species. During summer, whale sharks and sea turtles are visible in this area, especially in Son-ok MPA, which attract tourists.
How are the locals involved in protecting the MPAs?
They are very much involved since all marine protected areas are managed by the barangay councils in the barangays where the MPAs are found. Barangay tanods are assigned to guard these MPAs. Local residents are also involved in coastal clean-ups initiated by the barangay councils and do reporting of illegal fishers in the MPA/MR to the concerned authorities.
What are the efforts of the local government units to ensure that the MPAs remain protected?
The LGU has passed an ordinance protecting its MPAs/MR. It also organized its own Municipal Fishery Law Enforcement Team (MFLET) or bantay dagat to conduct seaborne patrol operations to ensure that the municipal waters and MPAs/MR are protected from illegal fishers and poachers. There are also regular coastal and river cleanup and waste segregation scheme organized by the LGU to maintain cleanliness in the coastal areas.
Can you tell us about your efforts to protect whale sharks?
The LGU passed the Comprehensive Municipal Ordinance-CMFO and Municipal Tourism Ordinance that protects whale sharks and other marine endangered species. In Section 38, Article 10 of the ordinance, fishing and or taking of these endangered species that include whale sharks are strictly prohibited. The ordinance also states that during whale shark interactions, tourists are advised to follow protocols such as: one boat per whale shark to minimize disturbance of the gentle giants; use of scuba dive gears, underwater flash photography, touching, and riding on the back the whale sharks are prohibited; and a distance of not less than 3 meters away from the body and head and 4 meters away from its tail should be observed during interaction to keep a safe environment to the animal.
What are your long-term plans for more MPAs in Pintuyan?
Information should be continuously disseminated to barangays regarding the benefits of having MPAs/MR in their barangays. Locals should know that MPAs will increase fish catch, attract both local and foreign tourists, and preserve coastal fish habitat that will serve as breeding grounds of most fish species. As a whole, having MPAs will result to more fish, more food, more income, healthier environment and better economy for Pintuyan.