November 6, 2020
Municipalities for MPAs: Liloan, Southern Leyte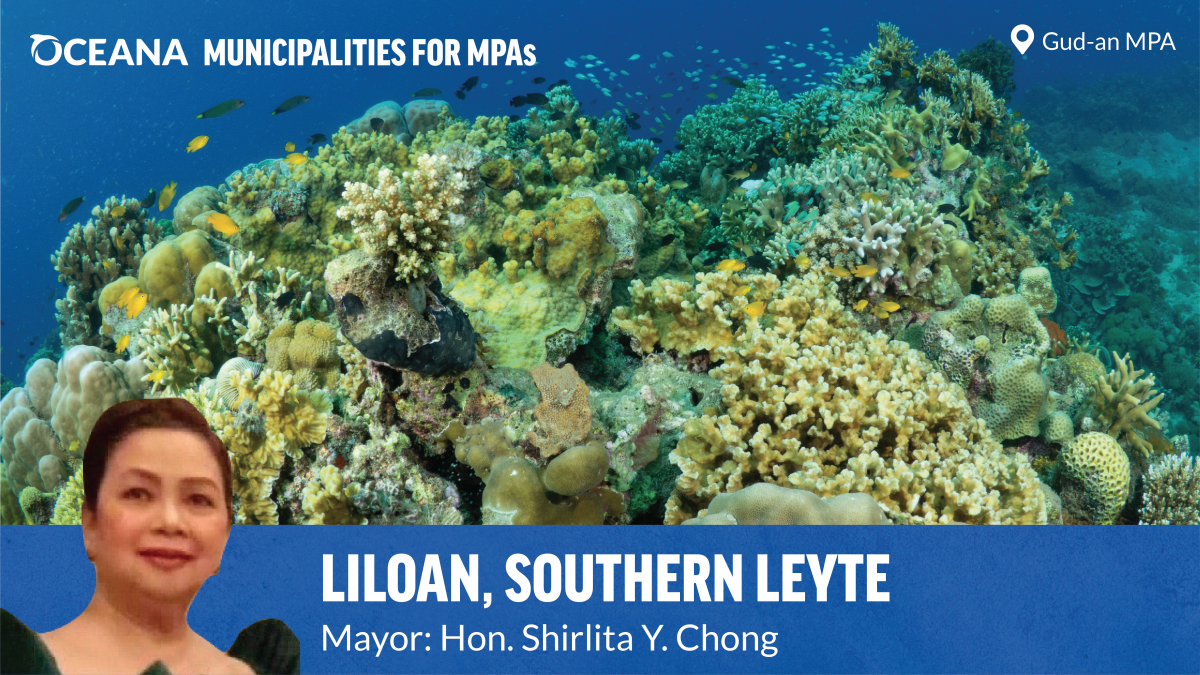 Hon. Shirlita Chong, Mayor of Liloan, Southern Leyte reveals their municipality's initiatives to strengthen their MPAs.
Can you tell us about the Marine Protected Areas (MPAs) in San Francisco? What can be found in these MPAs?
The four marine protected areas of Liloan were established thru the collaborative efforts of the different agencies as well as stakeholders. NGOs, national, regional, and provincial support were the pillars of the establishments of our MPAs which were a great help to our local fishermen in terms of increasing the fish catch and augmenting their income.
Through the underwater assessment conducted by the different NGOs and government agencies, it was found that Liloan MPAs have healthy corals. However, there were reef areas that were damaged due to destructive fishing methods and overfishing. It was these very reasons why it was recommended by experts to have these areas protected. Now, just after a few years of declaring it as an MPA, different kinds of fishes and invertebrates are found inside the area including new soft and hard corals.
How are the locals involved in protecting the MPAs?
The support of the locals is a crucial issue in the establishment of MPAs. It is important that they understand the vital role of the reef system in the marine ecosystem, that if removed or damaged it could affect the stability of the entire ecosystem and affect them in terms of food production and lesser income for fisherfolks.
The local community is involved in protecting the MPA and has formed fisherfolk associations and established Bantay Dagat that watch and monitor the area and report to authorities any violators. The locals also participate in coastal clean-ups and mangrove planting activities.
What the efforts of the local government units to ensure that the MPAs are protected?
The local government continuously implements programs and activities to ensure that the MPAs are well supported, maintained, and fully protected. Among these are formulation of municipal ordinances on the protection of MPAs; providing assistance to barangays with MPAs to formulate their own ordinances on the protection of MPAs; constant information and education, strict enforcement of national and local fishery laws; apprehension of violators of said laws; strengthened linkages between non-government agencies, academe and national, regional, provincial offices; and allocation of budget for logistics support in the Annual Investment Plan.
Can you tell us about your efforts to protect whale sharks?
With the presence of whale sharks in the municipal waters of Liloan, we are now one of the destinations of whale shark watchers. With the increasing numbers of visitors and tourists, the LGU trained our staff and volunteers on whale shark interaction, whale shark guides, and spotter's training.
What are your long-term plans for more MPAs in Liloan?
Our long-term plan to establish more MPAs in Liloan includes linkages with Southern Leyte State University, Coral Cay, and Oceana to conduct underwater assessment, profiling, and feasibility study; more linkages with donor agencies and development organizations; conduct more trainings to local communities to take on the long-term responsibility of management; ensuring the financial stability of MPAs thru local and external assistance; and more environmental education and law enforcement.